His Divine Grace A.C. Bhaktivedanta Swami Prabhupada
<![if !supportEmptyParas]> <![endif]>
<![if !vml]>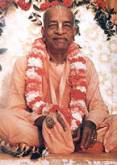 <![endif]>
<![if !supportEmptyParas]> <![endif]>
The Bhakti-Yoga Society bases it's study on the teachings and translations of spiritual literatures (Bhagavad-gita, Srimad Bhagavatam, and others) of the great Bhakti-Yoga teacher, His Divine Grace A.C. Bhaktivedanta Swami Prabhupada. Born in 1896 in Calcutta, he met his spiritual teacher as a young college-aged man and while a follower of Gandhi. His spiritual teacher urged this young educated man to take up the study of the serious spiritual science of Bhakti-Yoga, and told him to broadcast this knowledge throughout the English-speaking world. A.C. Bhaktivedanta Swami (then Abhay Charan De) took these words to heart and made them his life's mission. His Grace A.C. Bhaktivedanta Swami Prabhupada accepted the renounced order of life (sannyasa) in 1959. He lived in humble circumstances in the historic medieval temple of Radha-Damodar, which is situated in the holy city of Vrndavana where he studied and wrote.
<![if !supportEmptyParas]> <![endif]>
In the next twenty years he wrote over sixty volumes of authoritative translations. Highly respected by the academic community for their depth and clarity, they are used as standard textbooks in numerous college courses, and many are housed in the libraries here at UVA. Univ. of Virginia Professor emeritus, Dr. K.L. Seshagiri Rao commented on Bhaktivedanta Swami's translation of the Teachings of Lord Caitanya, "Sri A.C. Bhaktivedanta Swami Prabhupada has done a great service to the English-speaking world by making this spiritual treasure available in English." To further accomplish his guru's directive, he traveled to America at the age of 69 and in twelve years established a worldwide confederation of over 100 ashrams, schools, temples, institutes and farm communities. During the vigorous schedule of lecturing around the world, he continued to write, sleeping only a few hours a night to make time for his writing. Srila A.C. Bhaktivedanta Swami Prabhupada always taught by example. Always a gentleman, he considered himself merely a humble servant of his guru. Of course, we believe time will reveal his true greatness to all. He left this world in 1977.
<![if !supportEmptyParas]> <![endif]>